There are many reasons to make a portfolio investment in this Latin American country.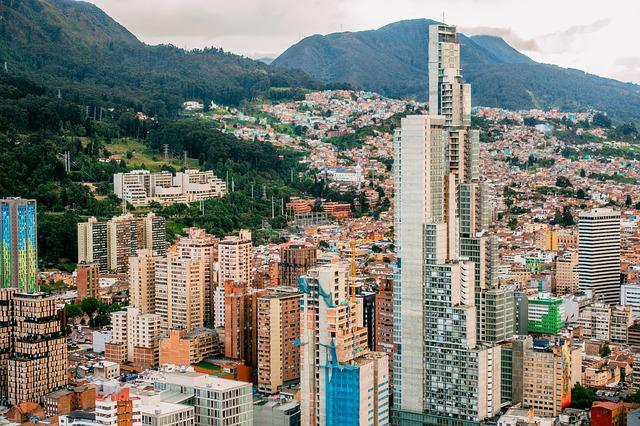 Investors looking for an attractive environment to diversify their investments need to look no further than Latin America. Colombia, the region's fourth largest economy, offers tremendous opportunities thanks to its abundant resources, diverse industries, and robust government initiatives.
Your FREE Agriculture Investment Guide
Your guide to discovering why agriculture is such an in-demand asset class, what megatrends are driving growth in 2022 and beyond, how to invest in agriculture and assess risk, what crops are global demand leaders, and where the most compelling farmland opportunities are located.
Colombia's Transformation From Narco-Nation to Peaceful Powerhouse
Although it's outdated, some might still picture violent drug cartels and government corruption when they think of Colombia.
For a time, this viewpoint was not incorrect. Colombia was once terrorized by the most notorious drug lord in history, Pablo Escobar, gripping the country's rural zones and local governments for nearly 25 years.
But for years Colombia has been shaking off the ashes of its war-torn past and has emerged as one of the rising stars of Latin America, and it's become an attractive target for foreign investment.
In the years that followed Escobar's death, Colombia took one of the most critical and vital steps in its history. It finalized a peace agreement with the Revolutionary Armed Forces of Colombia (FARC). 2016 saw the strengthening of national security with the official end of the 52-year armed conflict between the guerilla group and the Colombian government.
Finally at peace, the country has undergone a rapid transformation in the past decade, with the government planning to invest more than $70 billion into infrastructure projects. The Agencia Nacional de Infraestructura (ANI), Colombia's infrastructure agency, plans to forge ahead with a $20 billion infrastructure plan over the next decade. A wave of new projects will improve and expand roads and transportation infrastructure.
In April 2020, Colombia joined the Organization for Economic Co-operation and Development (OECD). The OECD'S guidelines aim to promote world trade and stimulate economic progress by setting standards for how countries deal with corruption, bribery, and tax laws (to name a few). Colombia's acceptance signifies that the country's policies, legislation, and practices align with OECD standards.
At the same time, the new Colombian government led by Gustavo Petro, Colombia's President-elect, is developing a national strategy for promoting peacebuilding, rural development, the end of oil, and sustainable agriculture.
Six Reasons for Investing in Colombia
Colombia and its rapid growth have not gone unnoticed by international investors. In the first quarter of 2022, foreign direct investment (FDI) increased by USD 5.2 billion.
Even during the pandemic, FDI has remained steady: the Colombian government has set a target of drawing in $11.5 billion in foreign investment by the end of 2022. According to outgoing President Ivan Duque, the country is already nearing $10 billion.
Further, Colombia aims to forge an ambitious new direction with Gustavo Petro, the country's new leftist president. This tenacious Latin American nation offers an increasing array of diverse investment opportunities across different cities, regions, and sectors.
These are six key reasons to invest in Colombia:
1. A welcoming, stable legal environment
Since 2005, Colombia has introduced more than 37 reforms to ease investing and doing business, making it one of Latin America's most business-friendly nations. The country was named a regional frontrunner in terms of ease of doing business by The World Bank and is in the top five countries in the world and best in Latin America in terms of foreign investor protection.
The U.S.-Colombia Trade Promotion Agreement ensures foreigners who invest in Colombia are held to the standards that they already enjoy in the United States. This equal treatment includes the promise that the Colombian government gives foreign investors the same protections offered to domestic investors.
For example, the Colombian government cannot illegally seize investors' private property or destroy their investments' value. Investors can also move their assets in or out of the country safely. In addition, the agreement allows investors access to key industries in the local market, such as construction, telecommunications, and energy.
If an investor feels that the Colombian government has failed to honor any agreement or rules, that investor has a right to neutral, transparent, and binding international arbitration.
2. An open economy
One of the most open Latin American economies, Colombia has completely opened all sectors to foreign capital participation—except for TV broadcasting, where foreign ownership is capped at 40 percent.
Abundant Free Trade Agreements
Free trade can be a major driver of economic activity, especially in emerging markets. More specifically, Colombia currently has free trade agreements (FTAs) with 17 countries and groups of countries, including the U.S., the U.K., the European Free Trade Association, and much of Latin America.
These trade agreements grant preferential access to 65 countries and 1.5 billion consumers worldwide, and are designed to give investors certain benefits by increasing the quantity and diversity of the country's exports.
Well-Regulated Foreign Exchange
Successful foreign investments depend on more than just free trade agreements and growth opportunities. Whether you're investing in a Colombian subsidiary or directly in a Colombian company, you'll need to move money in and out of the country.
When companies and individuals invest in Colombia, they rely on the Colombian central bank allowing foreign currency to efficiently move into and out of the Colombian Peso with as little friction as possible. By registering with the central bank (typically through a foreign exchange declaration), you receive the right to make payments to a bank account abroad.
Further, transferring funds from U.S. dollars to Colombian pesos allows for geographic arbitrage opportunities. For example, working remotely for a U.S.-based company while living in Colombia, where the cost of living is lower, allows your U.S. dollar to go further.
3. Compelling incentives encourage foreign direct investment
To further spur foreign investment and economic growth, the Colombian government has rolled out investment incentives across many specific industries, from agriculture to tourism to science.
These are just some of the primary legal and tax benefits for investors in Colombia:
A progressive reduction in corporate income tax—from 33 percent to 30 percent—for businesses from different industries that invest in Colombia
Tax incentives in the form of a 50 percent discount on the Industry and Commerce tax (ICA) for foreign investors who start or continue a business in Colombia
Ten-year income tax exemptions for businesses that invest in agriculture, fishing, housing projects, and rural development in Colombia
Zero percent tariff on the importation of capital goods and raw materials not produced in Colombia
A 27 percent tax rate and other benefits for 20-year mega-investment projects that create 400+ direct jobs and invest a minimum of roughly USD 280 million in Colombia
In addition, Colombia has competitive free trade zones that allow investors to establish and execute commercial activities within eligible zones and receive many benefits and tax incentives, including:
A single income tax rate of 20 percent (the 2022 rate in the National Customs Territory is 35 percent)
Customs duties exemption on goods imported into the free trade zones
Value added tax (VAT) exemption for raw materials, parts, inputs, and finished goods sold from the National Customs Territory to industrial users of the zones' goods or services
In short, the government seeks to reward people and companies from other countries who invest in Colombia.
4. Geostrategic location
Colombia's geostrategic location creates easy international market access as the only country in South America with direct access to the Pacific, Atlantic, and Caribbean oceans.
Goods shipped from Colombian ports can reach the United States several days faster than when shipped from Asia or even Mexico. For example, a container of fruit from Cartagena can reach port in New York in only five days, compared to nearly two weeks for fruit trucked from Mexico. Plus, Colombia's exports can reach both the Western and Eastern shores of the U.S. while avoiding the Panama Canal's pricey transit tolls.
The strategic regional hub has nine modern ports and 11 international airports with daily nonstop flights enabling economic cooperation with investors in major cities across the Americas. Further, during part of the year, Colombia shares time zones with other business and financial sector hubs like New York, Toronto, and Miami.
5. Abundant resources and sustainable initiatives
Colombia's diverse topography and climate zones give it access to abundant natural resources, including gold, coal, and petroleum reserves. However, there's a new shift in the country, with a solid push to channel future investments toward sustainable economic activities and away from the extractive industries on which Colombia has historically relied.
Sustainable investment initiatives
Historically, Colombia has relied heavily on exports. Colombia's new president Petro, who took office in August 2022, ran on a platform of driving economic growth and establishing financial stability by phasing out oil and gas exports in favor of sustainable agriculture.
This shift will require substantial agriculture investment from local and foreign investors, as the sector will need to grow by 600 percent to compensate for planned reductions in the oil and gas sector.
To support policies for transitioning to low-carbon energy sources, in March 2022, the World Bank approved $750 Million in loans to invest in Colombia.
Abundant Agricultural resources
In the heart of the equatorial region, the country gets abundant rainfall and sufficient sunlight to produce crops year-round. As the world's second-largest coffee exporter, Colombia is focusing its efforts on coffee, banana, coconut, and avocado production.
In addition, the nation is the world's fastest-growing exporter of limes, having increased its exports by an impressive 460 percent since 2015.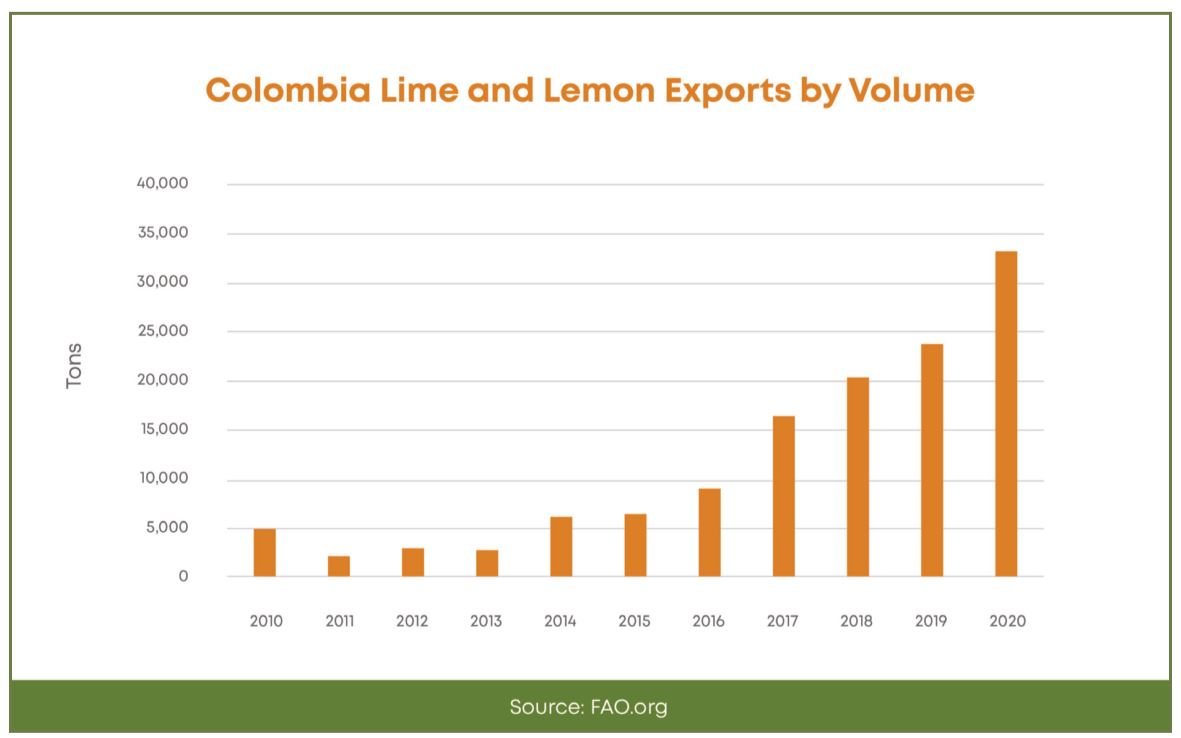 6. Robust Combination of Diverse Economic Elements
Although much of Colombia's recent economic growth has relied heavily on oil, gas, and other extractive industries, Colombia boasts a diverse economy. The following sectors further secure Colombia as an attractive investment destination.
Tourism
The number of tourists visiting Colombia grows consistently every year. Part of incoming President Petro's initiatives to reduce dependence on oil and gas revenue requires doubling tourism in Colombia from roughly five million annual tourists to 12 million in 12 years.
The country's diverse offerings attract a large segment of those tourists – from exploring beautiful cities and cultural port towns like Santa Marta to enjoying eco-tourism in lush tropical jungles and snow-capped mountains.
Creative industries
Referred to as Colombia's Orange Economy, the country is making significant investments to grow its creative economy. This includes goods and services that have cultural, artistic, or patrimonial value. An initiative introduced by former President Iván Duque aims to invest and grow the Orange Economy from around 3 percent in 2019 to 10 percent of the country's total GDP.
Thriving real estate market
Dollar-based investors profit from favorable exchange rates when looking into real estate investments in Colombia. As the Colombian peso weakens, investment dollars go further, allowing foreign investors to get more land for the same investment. In 2022, investment in Colombia's real estate market is expected to grow by more than 10 percent.
But opportunities aren't limited to residential or commercial real estate. In 2021, the Colombian government committed billions to revitalize rural areas through infrastructure and education funding, actively contributing to the growth of local agriculture. As a percentage of Colombia's land, agriculture has increased steadily over the past decade and already accounts for nearly 45 percent of the country's total. The push to grow the agriculture sector by 600 percent over the next decade will likely increase this figure.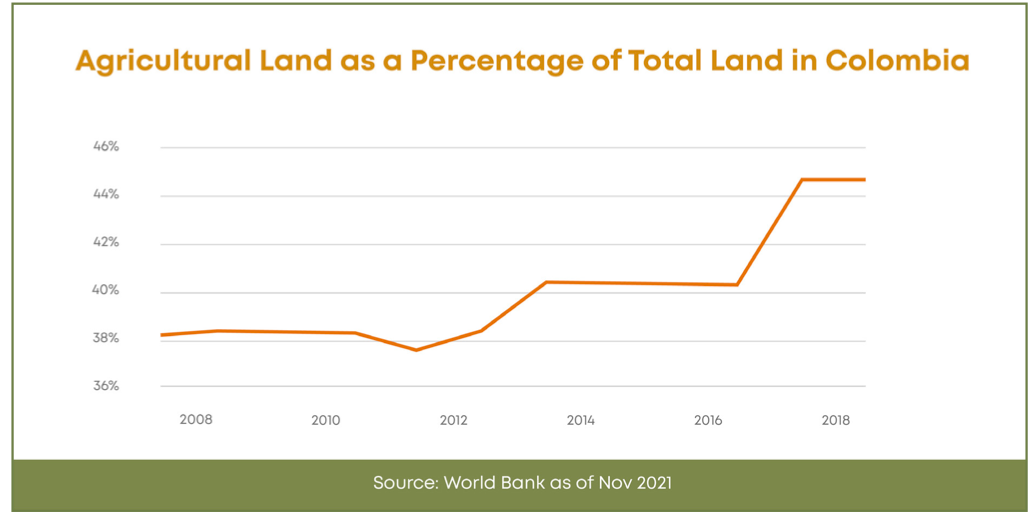 Business Process Outsourcing (BPO)
BPO is one of the largest employment generators in the country. Free trade agreements, lower salaries in the national territory, and shared languages with Chile, Spain, and Argentina make Colombia an attractive market for nearshoring and offshoring business process operations. In the BPO sector, some doing business report that the shift to remote work has helped the industry maintain stability and even add jobs during the COVID-19 pandemic.
Moving Colombia's economy past its dependence on extractive industries requires significant investment both at the national and international levels. Colombia's diversified economy and willingness to invest in sustainable modernization make it an attractive environment for foreign investment in the short and long run.
Your FREE Agriculture Investment Guide
Your guide to discovering why agriculture is such an in-demand asset class, what megatrends are driving growth in 2022 and beyond, how to invest in agriculture and assess risk, what crops are global demand leaders, and where the most compelling farmland opportunities are located.
Why Foreign Investors Should Consider Colombia
From natural resources to expanding tourism, creative, and outsourcing industries, Colombia is an attractive investment destination with many different sectors poised for future growth. The diversity of opportunities means many aspects for a foreign investor to get excited about.
Colombia also actively promotes and encourages foreign investment by maintaining a robust legal system, an open economy, and a variety of investment incentives. Potential investors enjoy benefits that include:
A stable investment environment
Free trade agreements with much of the world
A robust legal framework enabling private companies and protecting private property
And these are only a few reasons investing in Colombia is intriguing.
Aside from the sectors that foreign investors traditionally focus on – mining, oil, and communication technology – there's a growing interest in Colombian agriculture.
This low-risk, high-reward sector benefits from the country's plentiful resources, diverse ecosystems, and geostrategic trade location, making Colombia one of the most valuable regions to invest in farmland. Plus, the recent actions taken by Colombia's new president to shift the country's economy toward sustainable agriculture create massive investment opportunities for investors looking to expand their portfolios.
If you're intrigued and interested in learning more about why you should consider investing in Colombia, fill out the form below to get in touch with the team at Farmfolio.
Contact Us