And what it means for investment in Colombia in 2023.
The world of international politics is constantly changing. Colombia's recently elected leftist president Gustav Petro seeks to change his country and its relationship with other nations in the region, especially the United States.
Through a long history and mutually beneficial partnership, the countries share a relationship founded on shared fundamental values. Human rights, a desire for a sustainable future, and a belief that the power of democracy helps all humans reach their full potential underpin the 200-year relationship.
Most healthy relationships, however, are not without strain or disagreement. Although the new Colombian government may seek to change its relationship with the U.S., America might also require concessions.
How might the relationship change? And what would those developments mean for investment in Colombia?
Your FREE Agriculture Investment Guide
Your guide to discovering why agriculture is such an in-demand asset class, what megatrends are driving growth in 2022 and beyond, how to invest in agriculture and assess risk, what crops are global demand leaders, and where the most compelling farmland opportunities are located.
How Colombia Seeks to Evolve Its Diplomatic Relationship With the U.S.
On a recent tour to visit some of the newly elected leftist presidents in South America, U.S. Secretary of State Anthony Blinken met with Colombian President Gustav Petro.
Despite a generally positive connection, the leader of the Colombian government presented Secretary Blinken with some challenging requests.
Elimination of visa requirements for Colombian citizens
A week after the meetings with U.S. Secretary Blinken, President Petro raised concerns that the visa process takes an extremely long time for a strategic ally.
Currently, it takes Colombian applicants an average of over two years to receive the first in-person visa appointment at the U.S. Embassy in Bogotá.
With many Colombian expats in populous American cities like Miami, Houston, New York, and Los Angeles, the United States is a popular destination. Removing the visa requirement would grant Colombians a status that many U.S. allies, including much of Europe, Canada, and Japan, already enjoy.
The issue will be formally raised soon by Colombia's Ambassador to Washington, requiring approval from U.S. President Joe Biden.
Convictions on enduring peace
With the Biden administration, Petro seeks to ensure the ongoing full implementation of the peace agreement between FARC guerrillas and the Colombian government.
The two nations' leaders are committed to ensuring that Colombia's Indigenous groups and people of African descent enjoy the same rights as the rest of the population.
Maintaining a sustainable business environment
A significant aspect of President Petro's campaign promises was to continue creating a stable business environment to attract foreign investments. Traditionally, specific industries and sectors receive tax incentives and preferential treatment from the Colombian government.
At the center of the country's updated economic policy is new legislation for tax reform. Senior leaders laud this as the most progressive reform in the nation's history.
It imposes higher duties on coal and fossil fuels without increasing income tax for the middle class. This reallocates resources toward initiatives that benefit the public, such as agriculture, education, healthcare, and peace programs.
By providing such tax incentives, Colombia is making strides towards taking a more comprehensive approach to economic growth and social development as part of its long-term success plan.
©Starcevic via Canva.com
Points of Contention Between the Two Nations
Although the two countries share many objectives and priorities, there are impediments to their cooperation. Leaders will likely rely on common ground on other topics, like climate change and human rights, to further their relationship before tackling Petro's campaign promises and the U.S.'s counter-narcotics efforts in the region.
A challenging campaign promise
Colombia has suffered from the war on drugs in recent years, and is changing its stance towards extradition agreements with the United States. With President Gustav Petro's campaign promise to end the treaty, he wants the country to look for alternative solutions to combat drug trafficking.
However, many in the U.S. see the situation differently. Behind closed doors at their recent meeting, Secretary Blinken and President Petro admitted a key component of the efforts is extradition.
Petro has put forward a few unpopular suggestions, such as Colombia now taking on the responsibility of prosecuting traffickers and exploring the possibility of legalizing certain aspects of the drug trade instead of extraditing those in question. This move marks a decisive shift in Colombia's prosecutorial intentions and could set an example for other countries facing similar issues.
Subsistence farmers and illegal crops
The new President of Colombia views the farmers residing in excluded, remote areas somewhat differently than previous political figures. During the talks with Secretary Blinken, President Petro called for the U.S. to change its tone and approach to drug policy in the region.
Much of the United States' efforts in the War on Drugs have centered around demonizing coca farmers and not on benefit-based policy reforms.
Expenditure of funds to protect these farmers and foster more fluid legal trade processes could benefit the hemisphere and many struggling households. Additionally, money allocated to aid agriculturists in transitioning away from illicit crop cultivation provides an avenue for mitigating drug production in Latin America.
In this manner, President Petro believes that a comprehensive solution focusing on all aspects of drug consumption and production is superior to the historical War on Drugs approach.
Ongoing progress in an enticing yet challenging environment
Despite some differences in policy and new views from a new government, Colombia and the United States are committed to delivering real results that improve the lives of their citizens.
Often, value for citizens hinges on economic growth and investment opportunities for their people. Those results may require some compromise from both sides. As Colombia's new president seeks to review the country's free trade agreement with the U.S., he may be willing to adjust expectations on other items.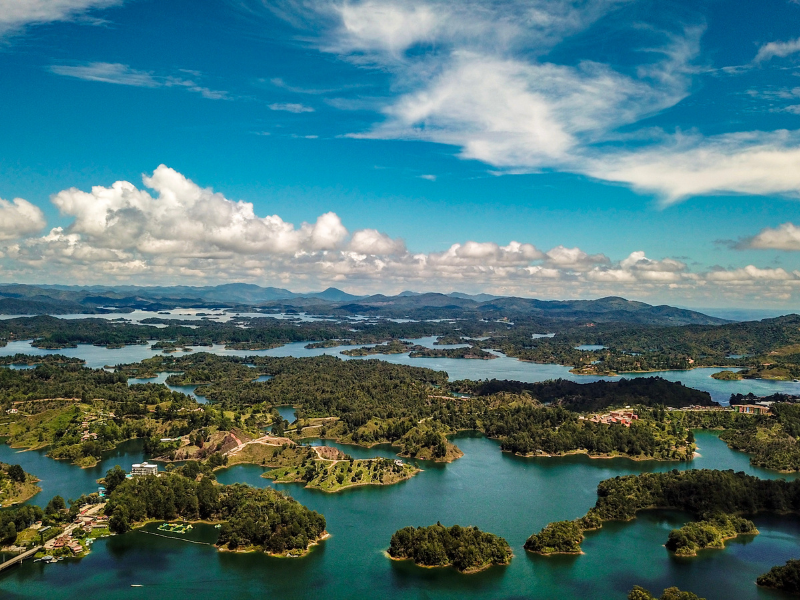 ©Jaime Gonzalez via Canva.com
Five Compelling Reasons for Americans to Invest in Colombia in 2023
Colombia has great benefits for foreign investors looking for Colombian investments or attempting to start a business in Colombia. Although it's been a tenuous relationship at times over the past few decades, the countries share a long-term strategic partnership that is set to only strengthen in the future.
Stable relations between the Colombian government and their American counterparts allow American investors and companies to benefit from the strategic advantages Colombia offers.
Strategic geographic position in Latin America
Colombia relies in part on a geographically strategic location to enhance its economic stability. This position provides access and departure for goods from both coasts of the Atlantic and the Pacific Ocean.
This allows Colombia to have easy access to markets around the world and enables robust manufacturing and agricultural supply chains.
With its central geographic position, Colombia is well-positioned to establish itself as a leader in global markets by taking advantage of its access to suppliers and buyers from around the world.
Economic development and stability
Colombia has become an attractive destination for foreign companies and business owners looking to capitalize on the country's stability and booming economy.
With consistent economic development, the Colombian market provides low-risk opportunities that foreign investors can feel comfortable investing in. The country also boasts some of the best protection for foreign companies, making doing business there relatively easy.
Colombia's private sector is rapidly expanding with a focus on tourism, creative industries, sustainable agriculture, and other areas – creating a wide range of potential investment opportunities.
Economic cooperation and free trade agreements
Colombia's strategic involvement in the global economy allows the nation to benefit from free trade agreements with 17 countries and groups of countries. These beneficial deals afford foreign companies access to the lucrative Colombian market and allow for increased private-sector investment and growth.
Further, economic cooperation with longtime allies such as the U.K., western Europe, and much of Latin America has enabled Colombia to become a thriving nation that continues to offer rich economic opportunities to local and international investors.
Incentives for foreign investment
For international investors and entrepreneurs looking to take advantage of the unique business opportunities in Colombia, the government has made multiple laws and tax incentives available.
Additionally, Colombia is one of the most attractive markets for investors due to its highly affordable and available workforce. Despite a growing middle class, Colombian wages remain a fraction of those in the U.S.
These investment incentives apply to businesses in agriculture, tourism, science, and more. Metropolitan areas are particularly favorable for companies in the private sector looking to invest; benefits include a ten-year tax exemption for those looking to invest in areas such as agriculture, fishing, housing development, or rural construction.
Three Appealing Sectors for American Investment in Colombia
With a leftist president for the first time, there is potential for significant changes in Colombia and in the country's relationships with other countries. However, there are real incentives for the country to maintain and encourage outside investment in Colombia to further diversify the economy and secure ongoing employment.
For example, Colombia's recently approved tax reform aims to increase tax revenue to reduce deficit spending. To do this, more high-earners will pay income tax and extractive industries, like oil and coal, will no longer receive deductions for royalties paid.
Colombia will require massive growth, especially in the following sectors, to fill in the gaps created by shifting away from mining and drilling. Much of this growth will create enticing opportunities for foreign companies and individuals considering Colombia as their next destination for business investments.
Real estate
Investing in real estate in Colombia is a lucrative opportunity for dollar-based investors due to favorable exchange rates, especially as the Peso continues its slide. Since the beginning of 2022, the currency has lost around 25 percent of its value against the U.S. dollar.
The Metropolitan area of Bogotá, which accounts for 28 percent of the nation's GDP, is seeing an influx of real estate businesses and private sector investments. Properties are becoming increasingly affordable in rural areas due to the Colombian government's commitment of billions towards revitalization projects. Infrastructure and education funding have positively impacted local farming industries and helped stimulate economic growth.
Investing in real estate in Colombia is quickly becoming an attractive option for savvy investors.
Creative industries and Colombia's orange economy
To drive economic growth, former Colombian President Ivan Duque strove to increase Colombia's creative economy, known as the 'orange economy,' from 3 percent at the end of 2019 to 10 percent of the country's total GDP.
With a creative industry composed of creative entrepreneurs, creative hubs, and creative businesses, the orange economy offers an impressive array of investment opportunities and incentives. Such incentives include access to technology, business acumen, and government support.
Although Petro's tax reforms may change the structure for some of this sector's incentives, shifting away from extractive industries could favor creative, technology-based enterprises in the long run. In this context, and in light of stable relations with the U.S., investing in Colombia's orange economy can make sense – especially when considering the unparalleled possibilities of the various subsectors that are part of the creative economy.
Agriculture and food production
Your FREE Agriculture Investment Guide
Your guide to discovering why agriculture is such an in-demand asset class, what megatrends are driving growth in 2022 and beyond, how to invest in agriculture and assess risk, what crops are global demand leaders, and where the most compelling farmland opportunities are located.
Another pillar of shifting Colombia's economy away from extractive exports is agriculture. A key aspect of the 2016 peace deal, something the U.S. government is keen to keep alive, is agrarian reform.
Further, companies making agriculture investments in Colombia are eligible for a ten-year CIT exemption if they fulfill certain criteria outlining minimum investments and the number of employees.
However, an investment in Colombian agriculture is more than merely politically driven. Not only does much of the country receive plenty of equatorial sunlight, but it also receives sufficient rainfall to produce crops all year.
Colombia, the second largest coffee exporter in the world, is an attractive agricultural hub with natural resources that support a variety of crops. Beyond coffee, lime exports have grown 460 percent since 2015, the fastest growth rate in the world.
The country's resources, coupled with its desire to grow the sector by 600 percent, will keep agriculture in Colombia an attractive opportunity for foreign direct investment.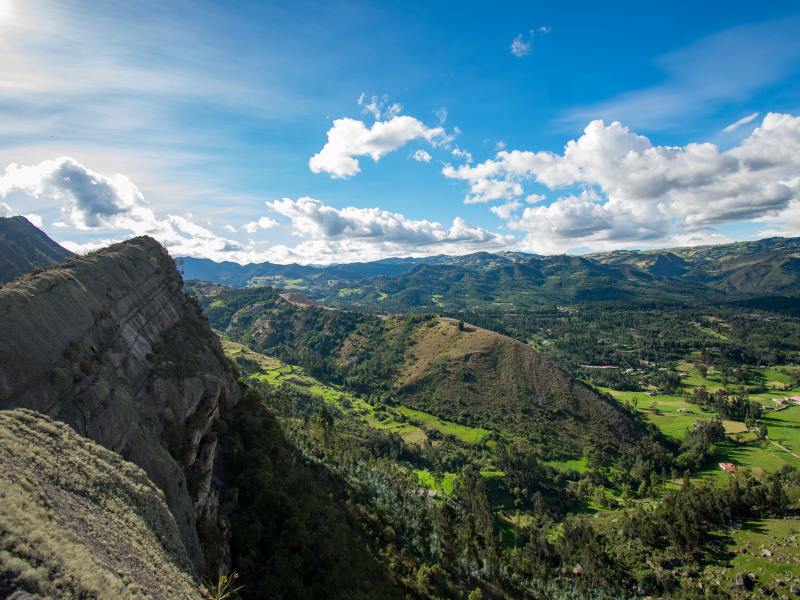 ©Paola Andrea Gomez Gualteros via Canva.com
Colombian – U.S. Relations Keep The Country Attractive to Foreign Investors
When there's a regime change in the U.S. or neighboring countries, there's often concern that previous agreements and alliances will change overnight. The relationship between the U.S. and the current Colombian government is no different.
Despite a new leftist president, Colombia remains the same country with the same attractive aspects and a renewed desire to improve the lives of ordinary citizens. Foreign investors can still benefit from Colombia's robust legal system and stable investment environment.
As the country seeks to shift its economy away from traditional sectors like oil, coal, and mining, there will be growing opportunities in other areas. Information technology, creative industries, and sustainable agriculture especially stand to gain from Colombia's new direction.
Diverse ecosystems, excellent growing conditions, and access to the Atlantic and Pacific coasts make Colombia an attractive location for foreign investment.
Are you interested in learning more about how you can get involved in this attractive sector and invest in Colombia? Fill out the form below to contact the team at Farmfolio.